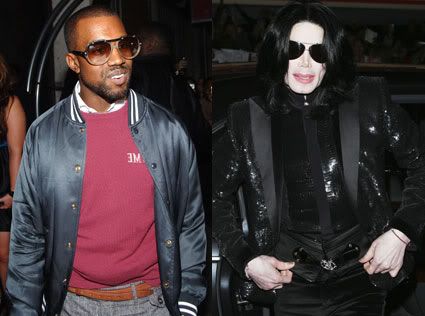 Over the past few years we've heard Kanye West say some pretty outrageous things, but this probably takes the cake.
"You know everyone loves and respects Michael but times change. It's so sad to see Michael gone but it makes a path for a new King of Pop and I'm willing to take that on. There's nobody who can match me in sales and in respect so it only makes sense for me to take over Michael's crown and become the new King. First there was Elvis, then there was Michael, now in the 21st century its Kanye's time to rule. I have nothing but respect for Michael but someone needs to pick up where he left off and there's nobody better than me to do that. I am the new King of Pop."
Wow!!
Talk about someone having a "big ego". The statement is beyond absurd in and of itself, but to have the gall to say that you're the successor to Michael Jackson regardless of how talented Kanye may be, is simply crack-ish. Just as a doped up Whitney Houston referred to her then-husband as the "King Of R&B" at some award show years back, I'm of the belief that Mr. West may very well be under the influence of some serious narcotics.
Think about it.
Vanity and the lures of Hollywood is largely responsible for the death of his mother not so long ago. I believe that God works in mysterious ways, but Kanye obviously still hasn't learned much from that ordeal. This devastating loss in addition to the break up of his long-time girlfriend helped produce the wacktastic "808 And Heartbreaks" album which sucked ass. That's the thing with drugs - They may free your creative juices and lead to the creation of some really mind-blowing material...OR, they can just reveal the fact that your mind was really blowed. Now he's even dating a bald head lesbian. It'll be interesting to know who's fuggin' who in that relationship. Actually, it wouldn't be.
Given these facts and considering the recent quote above, I'm greatly under the impression that the dude needs some type of drug intervention. He seems like the type to surround himself with 'yes men' who ride his dick IRregardless of how wack he may act (or his music can be) at times. They probably won't be the ones to do it, but dammit, I wish SOMEBODY would.
But then again, the two guys he mentioned as the previous "Kings", Elvis and MJ, apparently had drug problems in their past also, so hey, he may just be unto something.